So you have decided that you want to start snowshoeing, but don't know where to start. First things first. A little about snowshoeing. A 150 lbs male can burn up to
500 Kcal per hour
while snowshoeing at a moderate tempo. Yes, it will or might be cold. Burn about as many calories as running without the impact on your joints. Does that sound goo to you? If so, then snowshoeing might be for you. Can you tolerate the cold well? If not, then snowshoeing might not be for you. You tolerate cold well and you like hiking and taking your time with free will adventure then you just might find that snowshoeing is the activity for you. So you still think that you want to go out and invest in snowshoeing? OK, do you have access to snow? If you are ready then it is time to get your equipment. Here are some helpful hints to make sure that you have the right stuff to make it out on your snowy escapade.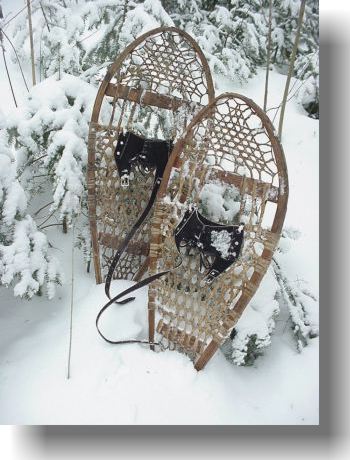 These are not your Grandma's snowshoes
FACT - use this acronym when buying shoes
Floatation - ability to keep the user from sinking in the snow. Depends on snow conditions and weight
Articulation - depends on the binding. Dictates stride, stability and control
Comfort - ergonomics make the snowshoe comfortable by working with your foot's shape. Make sure that the design works for you and that none of the straps are going to place pressure on areas of your foot that might cause discomfort or pain.
Traction - is determined by where you will go
Three questions for buying shoes
Gender - men's shoes are wider
Intended use - where will you go
Totally weight, including body weight, with gear
What type of shoes will you wear with your snowshoes

Might be a good idea to try on your snowshoes with your intended footwear
Will your intended footwear be waterproof, breathe well, and allow for foot warmth?


Clothing
Your own perception of the environment
Staying warm and dry

Think environment of the environmental conditions

So plan ahead and get the weather forecast

Waterproof / breathable - want both in cold and wet conditions
Think the acronym VIP

Ventilation - your base layer, the layer closest to you body, should be breathable / mid layer should be windproof / outer layer or shell should be waterproof
Insulation - adding extra clothing or looking for products that will keep you warm
Protection - top layer or outer layer - Gortex ProShell and PacLight are top of the line items and great products for winter weather sports. To get the best you may have to shell out some cash.

Head and hands are instant body heat regulators. Look for gloves/headwear that might fit your activity choice and are good at wicking away moisture, but are also good at keeping your natural heat inside.

Take two hats with you in snowshoeing adventures
Glove inserts are great for those moments when you need some extra dexterity or to cool off without exposing your hands to the cold air.

Footware - Gortex or waterproof shoes with a Gator (inner lining) and warm wool socks

Breathability is determined by personal choice
What activity are you going to be doing?

Your shoes should match your plan (ie: running, hiking, long slow escapade)

DWR (durable water repellant) can wear out over time. Driers will reactivate the repellant. Wash-ins can also reactivate repellents

Various other products are available

Get some helpful hint from a reputable sporting authority/store

Techwash is great for protecting clothing while putting them through the wash cycle

Fuel for the body

Snack as you go
Keep snack light and full of quality macronutrients to help you go that extra mile
Put on a warmer layer when you stop to eat
Sitting on your backpack to keep yourself off the snow


Tips
Use your toes to dig into the snow going up hill
Snowshoes with heel lifts will make going up hill easier
Using poles will make it easier for both uphill and downhill
Find trails using www.alltrails.com
Find a group class in your area on snowshoeing and participate
Plan ahead and prepare for winter outdoor safety
Most of all have fun!!!

Have lots of fun!